Tripawds is a user-supported community. Thank you for your support!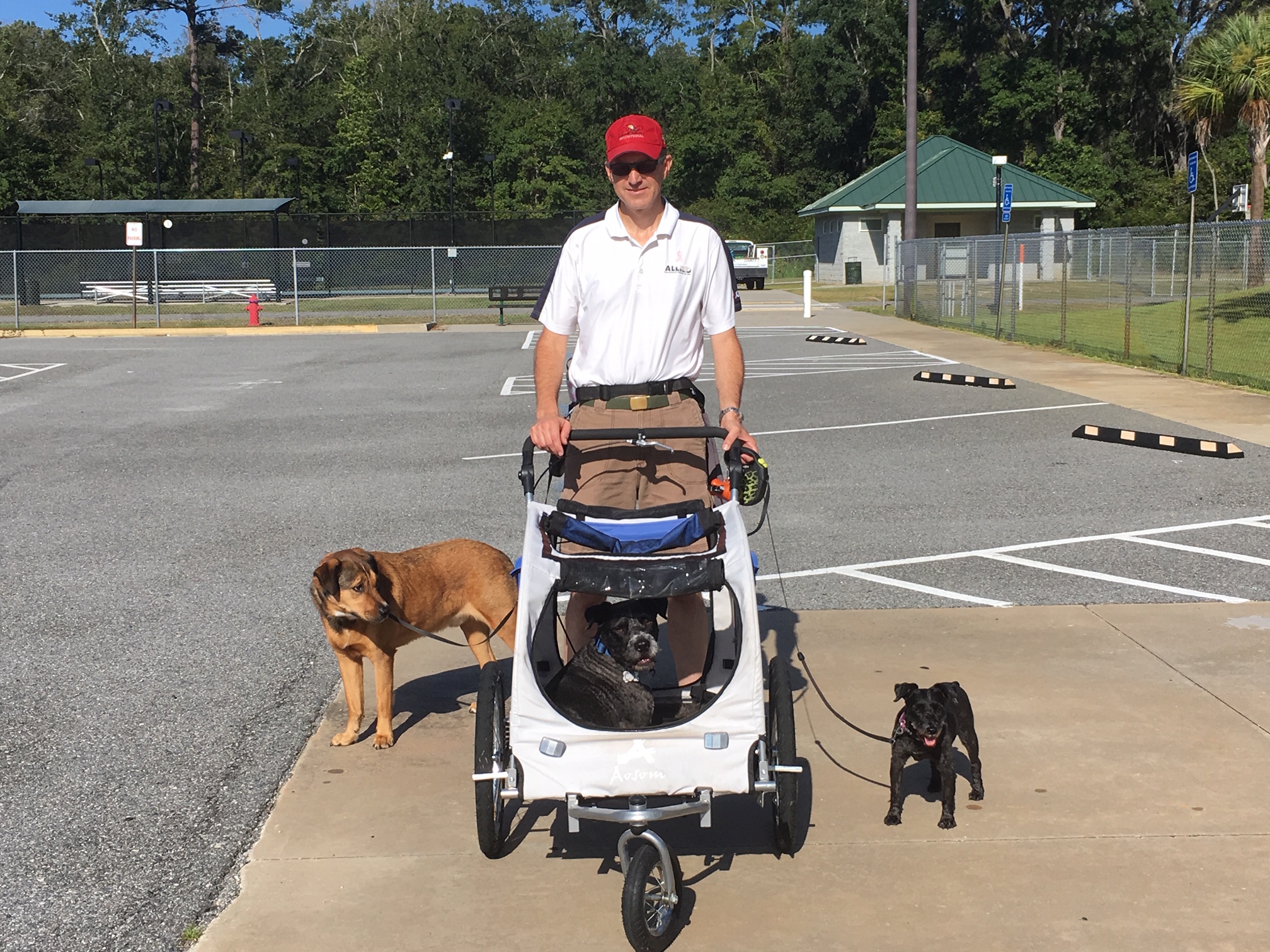 Walking any pack of dogs can be a challenge, but having a tripawd in the mix throws in a new dimension. As you may have seen in some of Hugo's previous posts, tripawds need assistance on longer walks. They are great at short distances, but longer outings are hard on their joints and tire them out quickly. Hugo's cart continues to work great and his 4 legged pack members have adjusted to it as well. I'm sure many of you have your own techniques, but here are mine.
Equipment:
Jogging cart made for dogs (see previous posts for the brand I chose, but there are many options)
Fanny (waist) pack – Mine is sturdy and has a place for water bottles
Carabiners – Many uses including attaching one or two of my dogs
Dog waste pouch – a responsible owner picks up after his pack. You need somewhere to store it until you can throw it away.
Collapsible water bowl – or something they can drink out of on hot days
Pepper spray – for emergency only, but you need a way to ward off canine or other attackers quickly
Reflective vest – always be seen after dark.
Headlight – I like a small rechargeable one to put on my hat. Amazon has plenty of good options
Blinking Tail light – again-  always be seen after dark
Extra leash
Paper towels or an old rag
Small first aid kit – band-aids, gauze, tape
Bug spray
Water bottle for longer walks
Plenty of poop bags
Leashes – I use flexi-leashes, but use what works for you.
That all sounds like a lot, but it's really not if you pack right. I keep my dog walking fanny pack ready to go, so I just have to clip it on and go.
Leashes – I have taught my pack to walk with flexi-leashes for several reasons. First, they provide me a handle to hold for each dog which gives me more control than wrapping  a leash around my hand. Second, they provide multiple lengths for different situations. This is the key to how I use them. When we are travelling, they get a short lead that is locked in place. The rule is "no pulling"  – ever. When we get to a safe place to relax or go to the bathroom, they get the full lead for a little freedom, but I still maintain control. When it's time to travel again, everyone lines up and we lock in the short lead again. All my dogs know the rules and obey them – no options. This kind of control is extremely important with a pack of dogs, because you have to be able to protect them from danger. It might be a car, school bus, other aggressive dogs, a wild animal or any other number of situations that your pack will rely on you to protect them from (and trust me, we've been in a lot of possibly dangerous situations just walking through the neighborhood). Ultimately, you need to use the leash that works best for you and that you can trust.
Collars – I prefer to use "martingale" type collars for my pack. They are much like a choke collar, but the amount that they will tighten up is limited and won't injure  your dog if adjusted properly. If my dog were to try and slip out for some reason, they tighten up just enough to prevent it so I can keep control of them. Use caution with any slip collar because they can injure your dog if not used properly.
Bottom Line – Walk your dogs! A dog is a nomadic animal that lives to roam or "walk". They don't want to exclusively live behind a fence or the walls of your house. Many times on my daily walk we hear other dogs barking from behind closed doors. Those owners think their dogs are protecting them, but they are really just screaming – "PLEASE, PLEASE, PLEASE, TAKE ME FOR A WALK."
See you on the road!